2022 is playing out to be the ultimate survival test for NFT projects. Our latest releases: no-code ERC-721a smart contract, pre-sale upgrade & more will help you make sure to stay winning in this market downturn.
With rug pulls running rampant, inflation rates soaring, and the rise and (eventual) collapse of shady projects, there is also an immense wave of opportunity rising in the space. Crypto down cycles prove to be the best time for authentic projects and creators to stand out and shine. This is when collectors actively seek out the most genuine, unique and trustworthy ideas that add value to their lives.
We believe that when you're operating in a bear market and creating something truly one of a kind, success is just around the corner. The most vital rule in times like these is to survive. In our latest rollout, we've made sure we equip our creators with some heavy-duty gear to help them navigate through this climate.
Build Through The Bear
🅰️ ERC721A: ERC721A is available for new DropKit Smart Contracts! We've integrated iconic NFT project Azuki's ERC721A smart contract to help collectors save gas. This will allow them to mint multiple tokens on Ethereum Mainnet & Polygon Matic networks for the gas price of one! Collectors usually save about 80% on their batch mints. Experience faster transaction speeds while minting, owing to lower network congestions. Say goodbye to gas wars!
Please note: ERC721A is exclusive to DropKit members. You can access the contract by clicking on [Create] -> [Drop] on your dashboard, as shown below.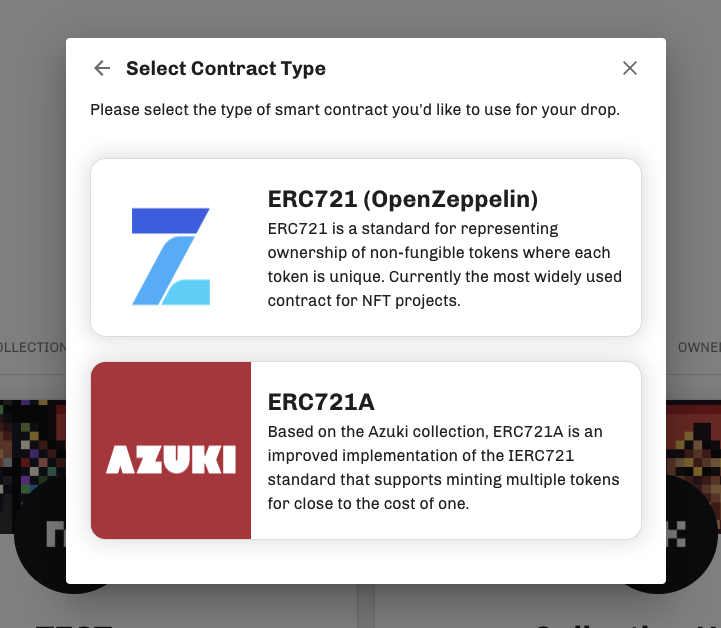 🛄 Presale List Upgrades (Batch upload, Quantity per wallet, ENS support): We've made pre-sale easier! You can now batch upload your presale list using CSV, alongside the option to add individual wallet addresses and set up and limit specific quantities per wallet. Adding to this, the list now also supports ENS addresses!
🧡 Partnership with The Giving Block: We're accelerating Crypto philanthropy alongside The Giving Block! Now, your projects can empower under-resourced communities and causes of your choice. Our revenue split tool helps you choose between 1500+ donation databases with this integration.
↕️ Row Reordering: You can now directly re-arrange the order of your NFTs on the DropKit dashboard.
🔗 Custom Links For Drop Pages: Add your website or social media accounts directly to your NiftyKit drop page. This helps collectors learn more about you and the awesome projects you're building.
👀 Upgraded look & feel: We've even updated the entire NiftyKit interface to add to your seamless experience as you create projects on our platform.
WGMI This Winter 💪
They say that bear markets are when future millionaires are made. At NiftyKit, it's always going to be business as usual, regardless of market conditions. Our mission isn't just to help people break through with their creative ideas, we also want to add as much value to our community as possible. We understand that not all of us are primed to weather the storm, but we're always ready to help you sail through. Below are a few links to reach out to us so we can assist you in any stage of your NFT project:
Talk to us on our Discord. Our support team will also assist you in case you need troubleshooting.
Tweet to us, let us know about your experience with NiftyKit.
Tell us about your project so that we can help configure your needs on our launchpad